Feed and Pay Price, November 2023
By Ed Maltby, NODPA Executive Director
Increase in CROPP Pay Price and increase in packaged organic product sales nationally and regionally.
The Agricultural Marketing Service (AMS) reports of estimated organic fluid product sales nationally for July and August 2023 show an increase in the sale of packaged fluid products of 2.5 percent over 2022 year-to-date. Class 1 utilization of organic fluid milk in the northeast increased by 15.1-million-pound year-to-date, January-September 2023, over the same period in 2022; a 5 per cent increase. US sales of organic fluid milk products in July 2023 were 230 million pounds, an increase of 0.7 percent from July 2022, and in August 2023 they were 247 million pounds, up 2.5 percent from August 2022.
In July 2023, fluid organic Whole Milk sales of 116 million pounds were up 7.3 percent compared to a year earlier. Reduced fat milk sales were 112 million pounds, down 4.9 percent from the previous year. August 2023 organic Whole Milk fluid sales were 124 million pounds, up 6.8 percent from June 2022. Organic Reduced Fat milk fluid sales in August 2023 were 122 million pounds, down 1.6 percent from August 2022. The average retail price for organic milk in August 2023 was $4.86 per half gallon, and in the same period in 2022 it was $4.67 per half gallon. Anecdotal reports suggest that supply of organic milk is short in the northeast and Pennsylvania, and that spot milk, when available, is at $40/cwt. There are reports that organic brands are pursuing spot milk rather than taking on extra farms or increasing pay price to a level that reflects costs of production across the country.
Product Name

Sales of Organic Fluid Milk

Change from

Jul-23

2023 Year to date

Jul-22

Year to date

Million pounds

Percent

Organic Whole Milk

116

807

7.3%

3.6%

Flavored Whole milk

1

5

-42.3%

-57.4%

Organic Reduced Fat Milk (2%)

77

536

2.3%

-3.9%

Organic Low-Fat Milk (1%)

18

158

-19.5%

-8.3%

Organic Fat Free Milk Skim

12

89

-6.2%

-11.4%

Organic Flavored Fat-Reduced Milk

6

45

-28.8%

-5.9%

Other Fluid Organic Milk Products

0

2

15.2%

179.2%

Total Fat Reduced Milk

112

828

-4.9%

-5.7%

Total Organic Milk Products

230

1642

0.7%

-1.7%
Product Name

Sales of Organic Fluid Milk

Change from

Aug-23

2023 Year to date

Aug-22

Year to date

Million pounds

Percent

Organic Whole Milk

124

931

6.80%

4.0%

Flavored Whole milk

1

6

13.20%

-52.60%

Organic Reduced Fat Milk (2%)

79

615

0.40%

-3.4%

Organic Low-Fat Milk (1%)

25

183

2.50%

-7.0%

Organic Fat Free Milk Skim

12

100

-13.40%

-11.7%

Organic Flavored Fat-Reduced Milk

7

52

-15.10%

-7.2%

Other Fluid Organic Milk Products

0

2

69%

164.7%

Total Fat Reduced Milk

122

950

-1.60%

-5.2%

Total Organic Milk Products

247

1889

2.50%

-1.10%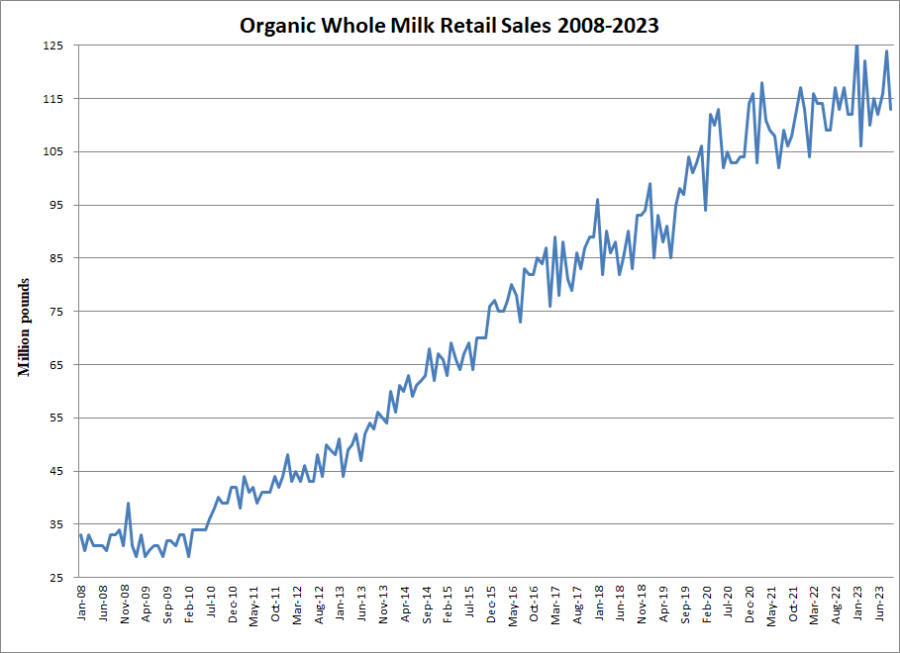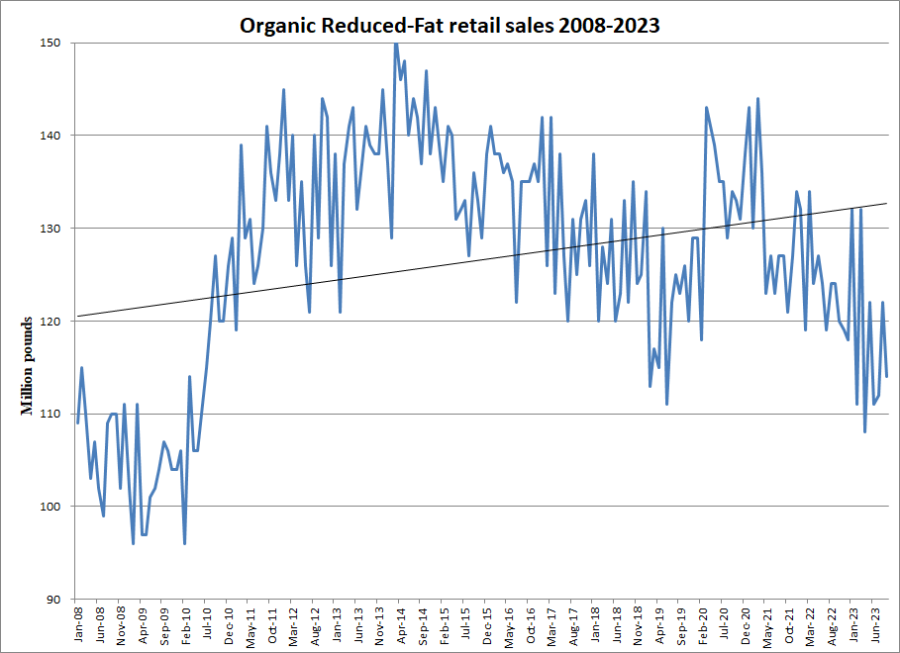 Federal Milk Market Order 1, in New England, reports utilization of types of organic milk by pool plants. It's important to know that we do not know how much organic milk is being sold at retail that comes from outside the order, which is currently not part of the detailed report. This is categorized in the reports as Class I out of Marketing Area, but not separated by organic or conventional. While the total milk utilized in the area is accurate, the organic is probably underreported as it would not report packaged organic milk from other FMMO's. Currently, there are two other Federal Orders (F.O.) that report the monthly breakdown of organic milk, Mideast F.O.33 and Central F.O.32; a total of three out of 11 federal orders. These 3 orders have the highest volume of fluid milk utilization. California (F.O.51) is also within the top 5 of F.O. reporting fluid volumes utilized under Class 1, but only reports some organic data in its monthly bulletin, but no monthly breakdown.
FMMO 1 reports that in August 2023, fluid organic whole milk utilization totaled 18.14 million pounds, up from 16.19 million pounds the previous year. The utilization of fluid organic reduced fat milk, 15.61 million pounds, decreased from 15.93 million pounds a year ago. In September 2023, the fluid whole milk utilization totaled 14.67 million pounds, a decrease from 17.61 million pounds from September 2022. For fluid organic reduced fat milk, the 13.65 million pounds in fluid utilization in September 2023 was a decrease from the 17.40 million in September 2022. Year-to-date, January to September 2023 compared with 2022 for organic fluid milk in FMMO 1, shows 2023 at 301.18 million pounds and 2022 at 286.16 million pounds, an increase of approximately 5% year over year. This increase is driven by an 11% increase in whole milk against a 1% decrease in reduced fat utilization. Organic fluid milk utilization is approximately 4.65% of the total fluid milk utilization within FMMO 1 for September 2023, not including the packaged Class1 milk coming into the area. Approximately 18% of Class 1 milk utilized in FMMO is from packaged milk outside the area.
UTILIZATION OF ORGANIC FLUID MILK PRODUCTS AND CREAM BY POOL PLANTS (Million pounds) in Federal Order 1 (northeast)

Fluid retail Organic Milk 2023

Fluid retail Organic Milk 2022

Fluid retail Organic Milk 2021

Fluid retail Organic Milk 2020

Increase/Decrease of 2023 over 2022

Increase/Decrease of 2022 over 2021

Increase/Decrease of 2021 over 2020

JANUARY

37.00

29.14

31.32

23.93

26.97%

-7%

31%

FEBRUARY

31.65

33.65

31.56

26.69

-5.94%

7%

18%

MARCH

37.37

31.56

31.87

27.90

18.41%

-1%

14%

APRIL

31.51

33.23

28.97

29.35

-5.18%

15%

-1%

MAY

36.24

30.49

29.72

28.25

18.86%

3%

5%

JUNE

34.59

31.53

28.41

26.90

9.71%

11%

6%

JULY

30.75

29.44

25.50

26.70

4.45%

15%

-4%

AUGUST

33.75

32.12

27.18

24.70

5.06%

18%

10%

SEPTEMBER

28.32

35.00

30.26

29.70

-19.09%

16%

2%

OCTOBER

33.54

34.83

29.47

25.78

-3.69%

18%

14%

NOVEMBER

31.13

31.07

24.47

0.18%

27%

DECEMBER

33.78

31.36

28.13

8%

11%

ANNUAL

385.90

356.68

322.50

8%

11%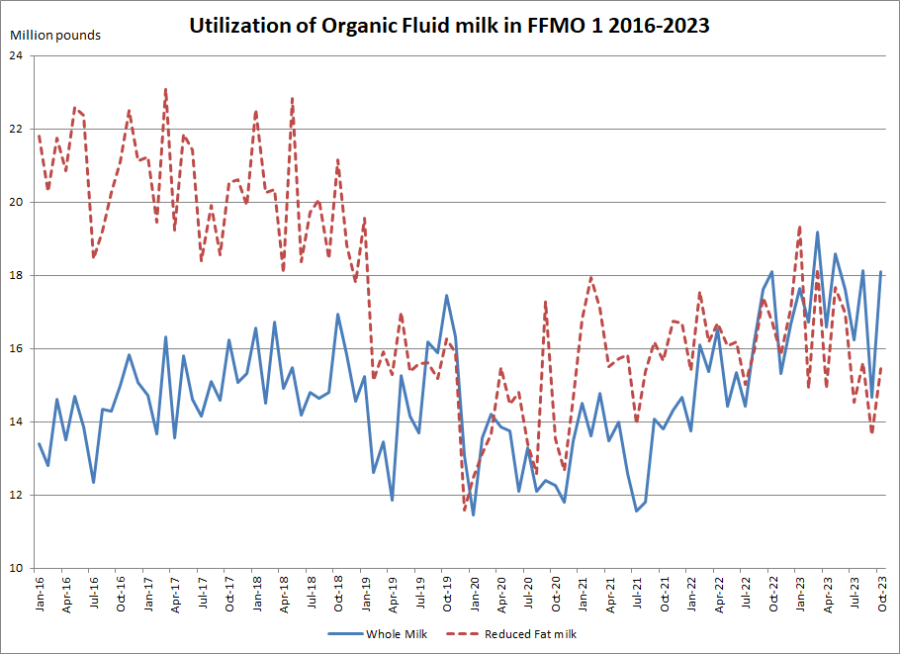 Central F.O. 32 is the only order that reports the breakdown as to the volume of Class 1 organic milk that is used in the Order and what is used outside the Order. F.O. 32 includes Colorado, Illinois, Iowa, Kansas, Missouri, Nebraska, Oklahoma, and South Dakota. In every month reported, organic packaged milk distributed outside the F.O. 32 order is more than the total recorded Class 1 organic milk in F.O. 1. As usual, we are asking for greater detail to define how much Class 1 organic milk is brought into any individual F.O.
UTILIZATION OF ORGANIC FLUID MILK PRODUCTS AND CREAM BY POOL PLANTS (Million pounds) in FMMO 32 (Central)

Month

2023

2023 distributed within the order

2023 distributed outside the order

March

52.73

April

49.18

5.64

43.53

May

48.21

5.40

42.78

June

45.20

5.57

39.63

July

48.45

5.70

43.64

August

48.47

5.63

42.85
In recent reports from NOFA-New York certified livestock auctions in New York, organic cull cows traded on average the same as conventional cows in September and October. The average price for the conventional cull cows was $87 per hundredweight in September and October, compared to an average price of $91 per hundredweight for organic cull cows. The auctions that are reporting on organic sales are Empire Livestock Auctions at Vernon, Pavilion and Dryden and Hoskins Sales. If there are any more please let me know.
Update on DMC
While considerably lower than the previous month's payouts, a Dairy Margin Coverage (DMC) payment was triggered once again for September 2023. At just $1.06 per cwt., the September DMC margin triggers an indemnity payment at the $9.50 level but not at level 2. The payment for August 2023 was $3.04 per cwt. Premium alfalfa hay fell to $288 per ton, and corn slipped from $4.73 per bushel in August 2023 to $5.21 average in September 2023. Soybean meal dropped from $438.80 per ton to $411.07 in September, making feed costs of $12.56/cwt. The All-Milk Price for September 2023 was $21/cwt. The projections for October through the end of the year are for no DMC payments with the forecast for the All-Milk Price increasing and the feed cost remaining at the same level or decreasing.
News: CROPP Cooperative Pay Price
As the major buyer in the northeast and the only buyer in some areas, producers welcomed CROPP Cooperative informing them there has been a change in the Pay Price. The letter to member/owners of the dairy pool states that the CROPP Board has been carefully "watching the impact that competitive pricing in certain regions has had on members and the cooperative." The letter further states the obvious that: "These challenges have been particularly impactful in the West and New England regions, resulting in significant attrition in those areas and putting our ability to fulfill future demand at serious risk." The letter states that:
The following line-item MAPs will go into effect as of November 2023 milk until the board decides to remove or change them:

New England: $1.50/cwt.
West Division (Washington, Oregon, California, Idaho, Utah, Colorado): $1.00/cwt.
Northeast and Southeast: $0.50/cwt.
2. The following base pay price increases will go into effect January 1, 2024, and will be applied equally across butterfat, protein, and other solids, based on a cooperative-wide total solids average of 13.07%:
a. Midwest, Mideast, Northeast, Southeast, and New England: $0.50/cwt (this is equal to an increase of $0.0383/lb. on Butterfat, Protein and Other Solids).
b. West Division (Washington, Oregon, California, Idaho, Utah, Colorado): $1.00/cwt (this is equal to an increase of $0.0765/lb. on Butterfat, Protein and Other Solids).
The increase in the CROPP pay price, which is shown in the table below, which starts to bring their pay price into line with other milk buyers in the area who have already increased pay price, for example, Upstate Niagara and Lactalis/Stonyfield:
| | | | | |
| --- | --- | --- | --- | --- |
| | Nov-Dec 2023 Total MAP's | 2024 base pay increase | 2024 MAP's | 2024 Total Pay Price Increase |
| West Division | $ 1.50 | $ 1.00 | $ 1.00 | $ 2.00 |
| Midwest | | $ 0.50 | | $ 0.50 |
| Mideast | | $ 0.50 | | $ 0.50 |
| Northeast & Southeast | $ 0.50 | $ 0.50 | $ 0.50 | $ 1.00 |
| New England | $ 1.50 | $ 0.50 | $ 1.50 | $ 2.00 |
There is currently a $0.50/cwt MAP in place for the West region through December 2023.This new decision increases the West MAP to $1.50/cwt for November and December 2023
The letter from Board President Dave Hardy states that "Lastly, I want to restate our commitment to engaging members to create farmer-determined pay price guiding principles in 2024. We're in the middle of transitioning into a new phase of how we operate, and these discussions will be so important for guiding when and how we make pay price changes in the future. You've been asking for action for many months, and we're glad to put this in place now. If you have questions about this decision, please contact any member of the board." Note to CROPP – please publish the names and contact details for your Board.
The October milk price calculations may be influenced by the value of butterfat that has increased while the value of protein fell substantially. The value of butterfat increased to $3.71 per pound, which makes for the third straight month that butterfat has been above $3 per pound. Milk protein decreased to $1.05 per pound, which is the lowest per pound cost seen in recent years.
CROPP Cooperative appointed Shawna Nelson as the farmer-owned cooperative's new executive vice president of membership (EVP) starting effective October 23, 2023. The current EVP of Membership Travis Forgues begins his transition to Hidden Springs Creamery and their family farm on Nov. 3rd. "After 25 years as a part of Organic Valley/CROPP Cooperative, wearing both farmer and leadership hats, I'm eager to shift focus to my family farm and our artisan sheep dairy and cheeses, Hidden Springs Creamery," Forgues said. Nelson was born and raised in the same Driftless area where CROPP is based and has been at the company since 2005. Nelson is advancing her role at CROPP from her previous position as vice president of dairy pool, where she oversaw membership functions that directly impacted the dairy pool of the cooperative, including hauling, regional pool management, scheduling, forecasting, milk handlers and dairy payroll. Nelson will now be responsible for the cooperative's 'farmer-member touchpoints' and all the farmer pools within the organization.
Travis Forgues was a founding member of NODPA and has worked tirelessly for the benefit of organic dairy producers and CROPP Cooperative. We wish him every success as he transitions to the next stage of his life.
Organic Dairy Marketing Assistance Program (ODMAP)
On September 21st the U.S. Department of Agriculture (USDA) responded to pressure from producer groups to make a second round of ODMAP payments for all producers that were previously approved for ODMAP. The additional payment of the remaining 25 percent of the ODMAP enrolled production was paid automatically and will require no further action by producers. The ODMAP enrollment period started on May 15, 2023, and ended August 11, 2023. Commodity Credit Corporation (CCC) funds of $104 million were available for ODMAP assistance and were subject to availability of funding. According to the ODMAP Notice of Funds Availability (NFA), for eligible ODMAP applicants, the first payment was factored by 75 percent and if sufficient funding for ODMAP remains available at the conclusion of the application period, an additional payment of up to the remaining 25 percent may be made to each eligible applicant if USDA determines that additional assistance is still needed. New, transitioning, or expanding dairy operations requesting 2023 estimated milk production be used to determine their ODMAP payment are in the process of being approved by the Farm Service Agency (USDA FSA) National Office. For any new, transitioning, or expanded dairy operations that have received an approval letter after Wednesday, September 20, 2023, one payment will process for 100 percent of the enrolled ODMAP production. USDA FSA reports that slightly over 1,000 applications were received and 20 million of the $104 million has been distributed.
While the number of applications may seem low, there are factors that differentiate the use of federal funds by organic dairy farms from conventional dairies. The number of Anabaptist farms (Modern groups within the Anabaptist movement are the Amish, Mennonites, and Hutterites), can be estimated at approximately 45% of total organic dairies. The majority of these farms do not apply for federal support.
NODPA and other organic dairy advocates are asking USDA to make a second 100% payment to producers as on-farm conditions have not changed and organic dairies are still disappearing. The extra payment will still only use under half of the funds made available with the initial NFA. The NFA also stated that these funds are not subject to sequestration. While many organic dairies have benefited from DMC payments in 2023, estimates predict that these will disappear in the last months of the year, again leaving organic dairies struggling with cash flow entering the winter.
Feed
Organic feed corn delivered prices averaged $8.94/bu. in November 2023, down $2.24/bu. from 12 months prior. Organic feed soybean delivered prices averaged $20.25/bu. in November 2023, down $11.30/bu. from 12 months prior. Soybean meal is currently trading at 986/ton, about $473/cwt. lower than 2022.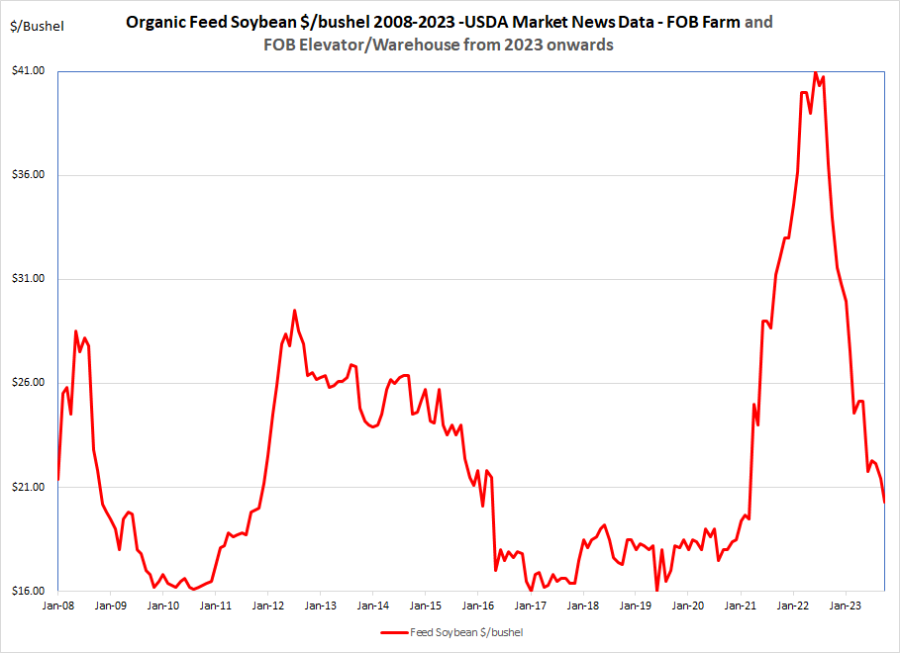 A regional supplier of organic feed had good news in an email to their customers. They reported that with local harvest of organic corn and soybeans beginning, grain is coming in at significantly lower prices than last year, market prices have fallen this fall, especially with the protein grains, and there will be some "truly serious" price reductions starting on Monday October 30. They noted that roasted soybeans have dropped by over $300/T, soymeal by $60/T, peas by $90/T, sunflower meal by $200/T, and corn by $60/T. This reporting ties into national and international data that shows a reduction in delivered prices which is keeping domestic prices lower than last year.
Attached Files:
Posted: to Organic Pay, Feed & Grain Prices on Thu, Nov 16, 2023
Updated: Fri, Nov 17, 2023