The O DAIRY ACT – how it was made and a summary of what it mandates
By Ed Maltby, NODPA Executive Director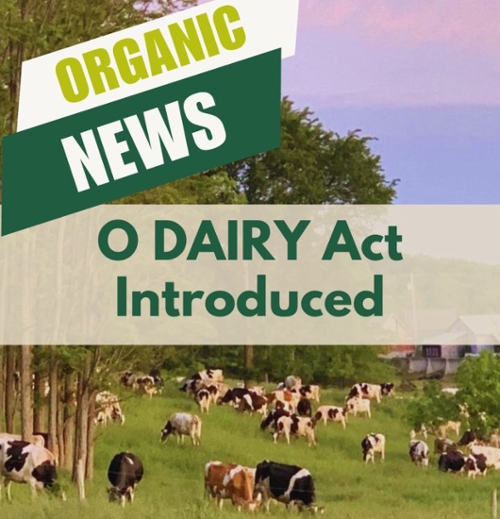 Speaking at the announcement of the bill at the Choiniere Family Farm, a grass-fed organic dairy in Highgate Center, Guy Choiniere, one of the farm's owners, is quoted as saying that with the cost of goods increasing, "The margins are much tighter for us, so this bill is super important." In a recent article on July 22, 2022, Forbes magazine stated that "Data is Power." Similarly, withholding that data is creating an anti-competitive marketplace and depriving producers of their rights to information. Organic dairy brands are restricting what producers can share and discouraging Congress from supporting regional brands that would bring competition to the marketplace.
From the start of the USDA NOP program, there has been a scarcity of production and market information on organic products available from independent sources. The only data available was proprietary information that companies paid for. For conventional producers, the USDA has dedicated agencies to supply that information so that producers can make informed decisions on production and risk management. Organic data was so inaccessible in the first decade of the National Organic Program (NOP) that for one proposed regulation, NODPA was asked to provide production data. We had a similar request in 2023.
The Organic Production and Market Data Initiatives (ODI) was first authorized by Congress in the 2002 Farm Bill and then funded in the 2008 Farm Bill. The National Organic Coalition (NOC) and The Organic Trade Association (OTA) have been successfully advocating in Farm and Appropriation Bills in Congress for more funding for organic data from the USDA. Like anything in Congress, progress was slow but, in this case, effective. In keeping with NODPA's mission, we supported that progress and started to advocate for more data on organic milk.
In the last decade there has been language in the Farm Bill priorities presented to Congress by NOC about the need for more reliable and independent data on organic dairy volume, utilization, pay price and organic commodity feed pricing. The Federal Milk Marketing Order (FMMO) has slowly built a database of sales of packaged fluid organic milk with monthly national reports. In the Northeast Dairy Task Force report in 2021, NODPA, NOC and Organic Farmers Association (OFA) supported various recommendations for increased organic data from USDA and funding for regional infrastructure. OFA also facilitated a committee of regional organic dairy groups during the Danone crisis which morphed into an Organic Dairy Committee that met weekly to advocate for national organic dairy priorities. This committee comprises the following groups: NODPA, Northeast Organic Farming Association of Vermont (NOFA VT), Northeast Organic Farming Association of New York (NOFA-NY), Maine Organic Farmers and Gardeners Association (MOFGA), Western Organic Dairy Producers Alliance (WODPA), Straus Family Creamery, Andrew Olson (Board member for Westby Dairy), and Joesph Tomandl, III (ED of Dairy Grazing Apprenticeship), plus many individual organic dairy farmers and supporters from other organizations.
In early 2023, Maddie Kempner of NOFA-VT initiated a relationship with newly elected Vermont Senator Welch's office. They agreed to work with the OFA group to support the introduction of a 'marker' bill for the 2023-24 Farm Bill that instructs the USDA to supply more organic dairy data, more investment in regional dairy infrastructure, and a safety net program for organic dairies. Six months later, and many group discussions on weekly meetings that also included advocating for the Organic Dairy Marketing Program (ODMAP), there was a good draft ready for publication. CROPP Cooperative, which is an important gatekeeper for any organic legislation, had so far not wanted to take an active role in discussions. Senators Welch's and Baldwins' offices wanted the support of CROPP before proceeding since compromise is the dominant language in Congress. The OFA group decided to negotiate with CROPP on compromise wording in the Act in order to get it introduced into the Senate.
On 10/19/2023 the Organic Dairy Assistance, Investment, and Reporting Yields Act of 2023 (ODAIRY) S.3097, was read twice in the Senate and referred to the Senate Committee on Agriculture, Nutrition, and Forestry. The Act is sponsored by senators Welch, Gillibrand, Sanders and Booker.
Title: To require the Secretary of Agriculture to provide support for organic dairy producers and processors, and for other purposes. Be it enacted by the Senate and House of Representatives of the United States of America in Congress assembled,
SECTION 1. SHORT TITLE.
This Act may be cited as the "Organic Dairy Assistance, Investment, and Reporting Yields Act of 2023" or the "O DAIRY Act of 2023".
The O DAIRY ACT will:
Improve data collection and reporting for organic dairy including:
Organic All Milk Price Survey, analogous to the existing National Agriculture Statistic Service (NASS) All Milk Price Survey, to gather and report monthly data about what organic farmers are being paid for their milk, nationally and in regions with the largest organic dairy production.

Organic cost-of-production data by state and regional data relating to the quantity of organic milk production; organic mailbox price; and major organic feedstuff prices.
Require USDA to propose a safety net program for organic dairy farms based on organic-specific milk and input cost data that prioritizes small farms.
Provide investment in organic milk processing infrastructure to enhance regional milkshed markets that seek to drive a greater affinity for regionally sourced and processed organic dairy products by incentivizing support for:
The development of new organic dairy processing plants that support multiple regional small dairy operations.

Initiatives that establish institutional purchasing of local organic dairy products.

Investment in infrastructure to gain transport and processing efficiencies.

The establishment of on-farm organic dairy processing and storage.

Producers and processors that want to expand regional organic processing infrastructure serving small dairy operations.

Initiatives that support increasing regional processing capacity.

New Regional Organic Dairy Market Specialist positions in each major organic dairy producing region to conduct research on the marketing of organic dairy.

Provide immediate support to address dramatically increased organic input costs for organic dairy farms by extending Emergency Assistance for Livestock, Honeybees, and Farm-Raised Fish (ELAP) to cover certain losses related to higher-than-normal organic feed or other input costs that result in a net income decrease of more than 10% in a given year. Requires the USDA to streamline the payment process under this program.
Posted: to Policy in the News on Thu, Nov 16, 2023
Updated: Sun, Nov 19, 2023